PowerUP
Regular price
€7.055,37 EUR
Regular price
Sale price
€7.055,37 EUR
Unit price
per
Sale
Sold out
Share
At the moment 8 weeks delivery time in EU - UK
Contact me if you want a quote or more information.
With the PowerUP hydrogen fuel cells you go for 100% green autonomy. Whether you are looking for a range extender for an electric boat, or a better energy system for your camper, boat or other off-grid application: the UP generators ensure that your own green power is always available.
My personal comment
"Thanks to PowerUP team (based in Estonia) fuel cell technology finally becomes available for enthousiasts at a competitive price. In my opinion, hydrogen plays an important role in the energy mix of the future. With this ultra safe generator, high tech innovation is backed by a highly motivated team resulting in one the first hydrogen generators suitable for many off-grid systems (boats, camper, residential...). Hydrogen can be purchased from the traditional gas companies like Linde, Air Liquide etc. Our own Green hydrogen supply systems is under construction. Affordable green hydrogen is coming up soon..."
This sustainable energy generator is the perfect alternative to the diesel generator:
No odour and noise pollution
Hydrogen (H2) as emission-free fuel
Lightweight
No moving parts and hardly any maintenance
Safe and reliable
Through the PEM fuel cell technology the UP generator generates electricity as a result of an electrochemical reaction. Hydrogen (H2 from the tank) and oxygen (O2 from the air) are converted in this process. The end product of this reaction is simply water (H2O) in the form of steam. So as long as the reactants are supplied, there will be green power.
The PEM fuel cell stack may be the heart of the UP generator, but it takes more than that to create a properly functioning electrical generator. Inside the beautiful design are a small lithium battery and a DC-DC converter. These fuel cells provide a constant voltage of 12V, 24V or 48V and can both replace or recharge a normal battery. The range currently covers generators from 200W to 6kW. Direct available at the moment are the UP400 (400W) and UP1K (1kW). Please request for other models.
Notice the product requires a hydrogen cylinder (type 4) and gas system (hose, regulator...). These are not included in the price. Feel free to contact me for all options.

TECHNICAL DETAILS:
Questions about this product?
View full details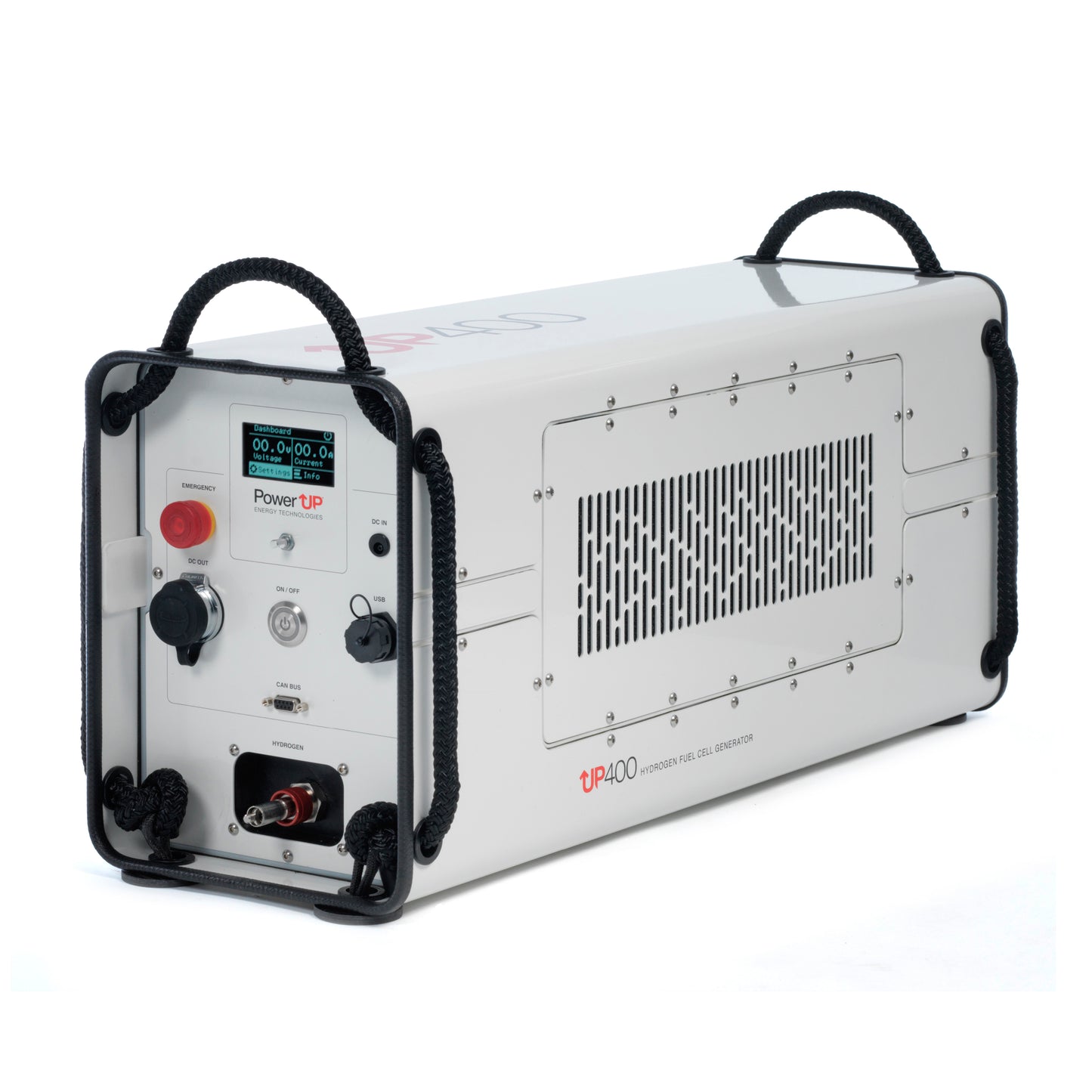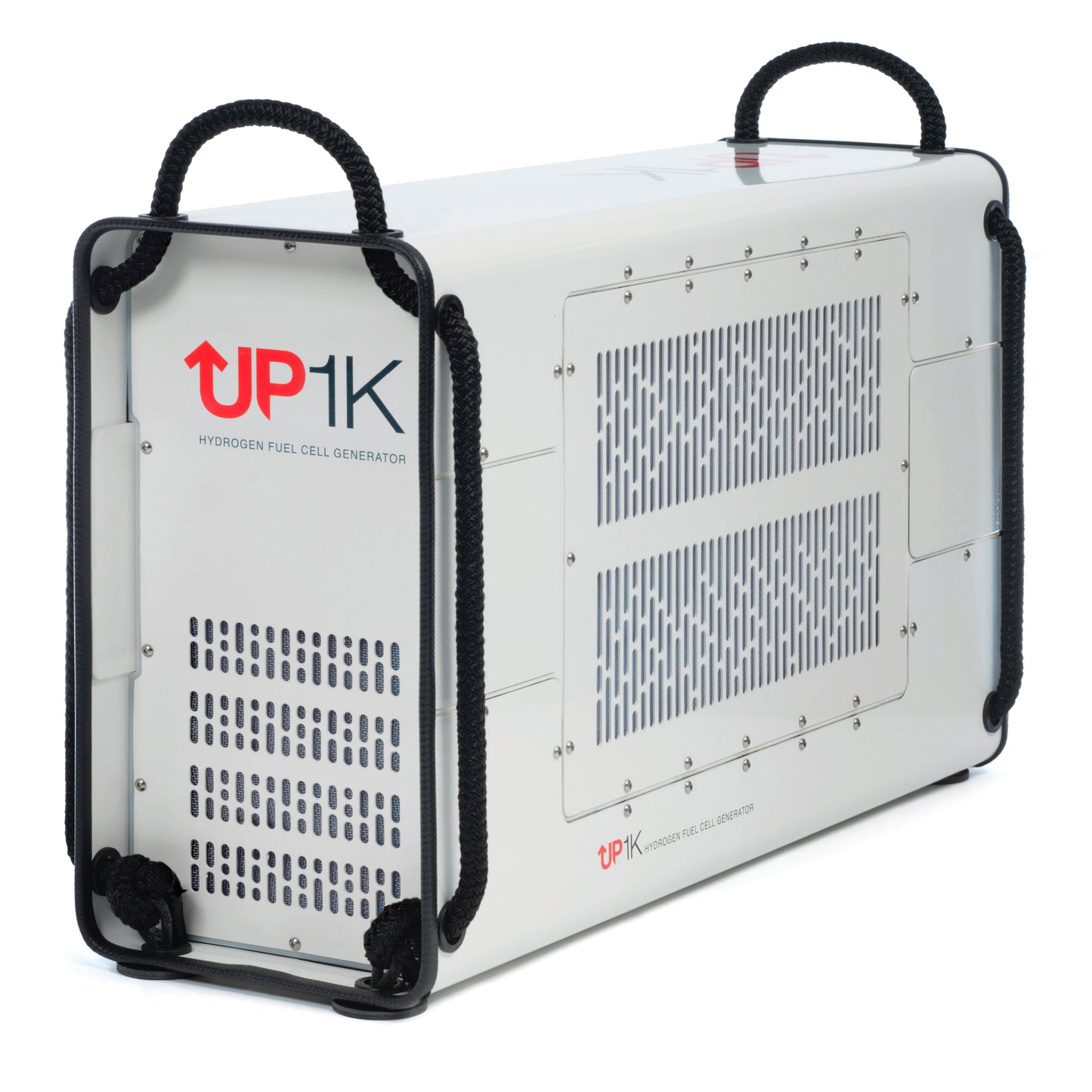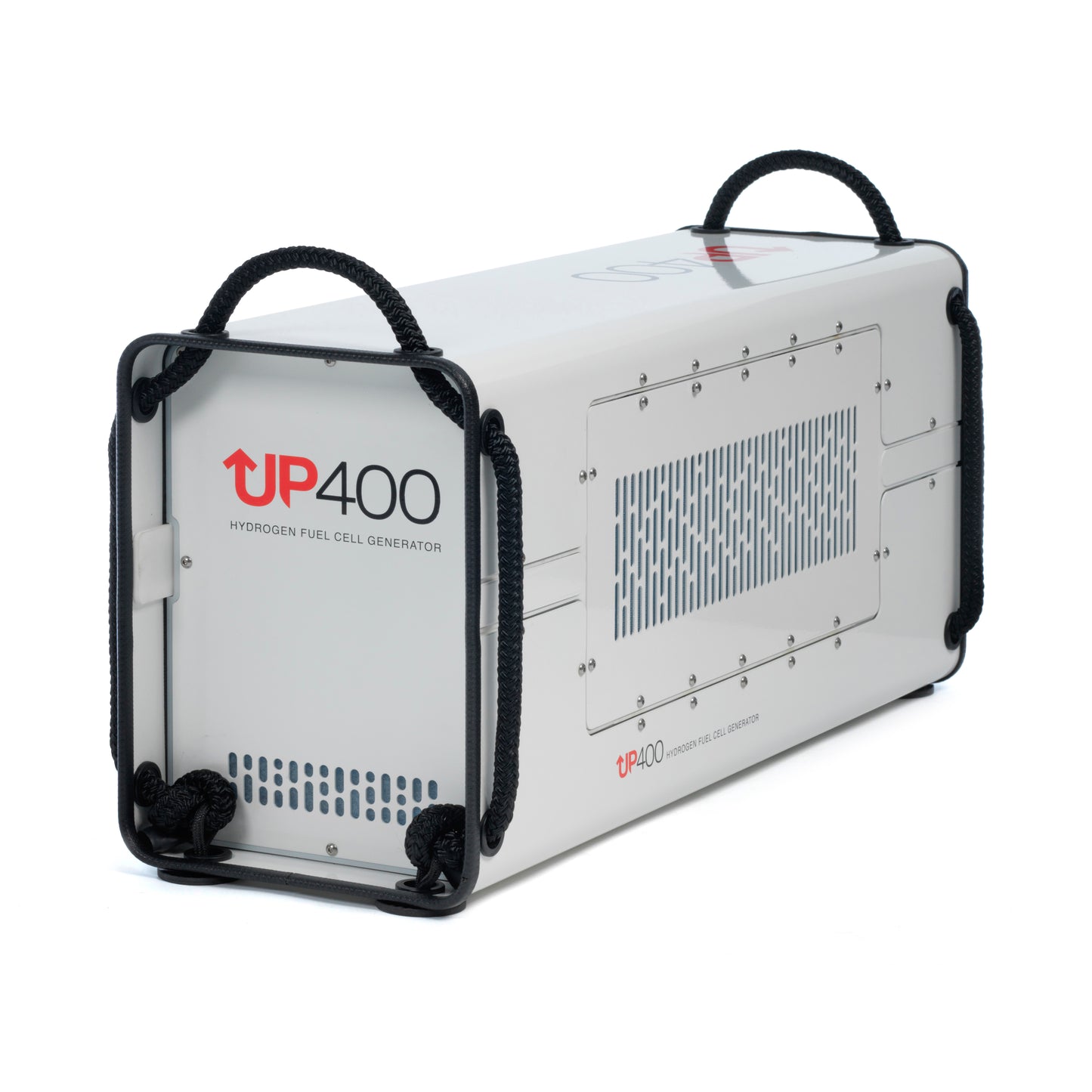 Some questions you might have:
What is E-Way?

E-Way is my personal brand creating a niche market for newcomers/alternatives on the market of Energy systems and Electric marine propulsion.
Where is E-Way based?

E-Way works together with the Dutch company P&E LOWLANDS BV. We are based in:
Lantaarndijk 10
4797 SP WILLEMSTAD
the Netherlands
When can I expect delivery?

E-Way products always leave from our own warehouse in the Netherlands. Usually, your parcel is delivered to the express courier (DHL, DPD) one day after your order. You will then receive a tracking code and it usually doesn't take long (max. 4 days depending on your location in EU+UK). Note that UK customers will still owe import duties and import taxes upon receipt (to be settled with the courier on delivery).